The Alabama Center for Ecological Resilience (ACER) Consortium came together to investigate how biodiversity influences an ecosystem's resilience, or its ability to resist and recover from disturbance, specifically the ecosystems of the northern Gulf of Mexico to the 2010 Deepwater Horizon oil spill. ACER is focusing on the coastal ecosystems (marshes, beaches and estuaries) of the northern Gulf of Mexico.
Over the next 3 years, ACER scientists will examine the relationship between biodiversity and ecosystem resilience across a gradient of oil exposure. Taxonomic, genetic and functional diversity will be considered at several scales and in many different groups of organisms. Experiments will be conducted both in the field and in large-scale controlled environments. Several ecological processes (primary productivity, nitrogen cycling, predation) as well as aspects of ecosystem structure (density, biomass, biodiversity) will be measured. Ecosystem services, such as shoreline stabilization and the availability of habitat, will also be assessed. Research results will not only allow for an assessment of oil spill impacts, but more generally, may also help to predict the impacts of other types of disturbance.
Monday, December 11th, 2017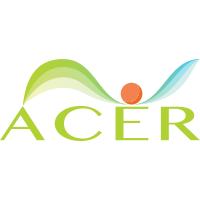 ACER is seeking a post-doctoral researcher versed in handling large data sets to lead a synthesis of the results of ACER's seven groups of investigators. Deadline for application packages has been extended to January 26, 2018.
Monday, October 30th, 2017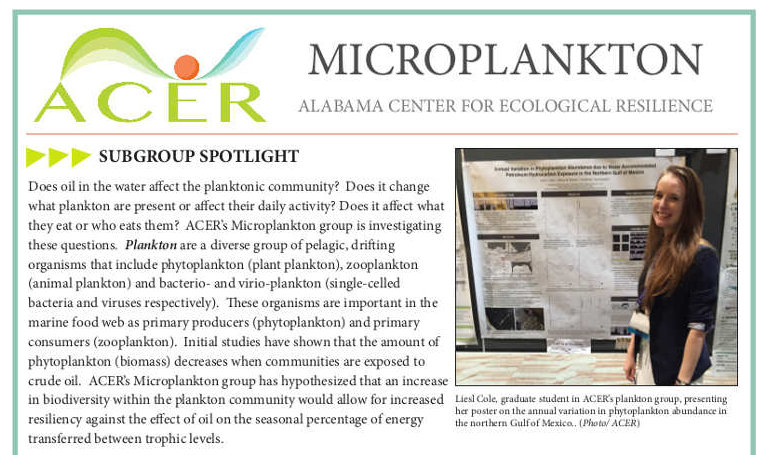 ACER is pleased to release the 6th publication of our Factsheet Series focused on our Microplankton subgroup. The Microplankton team is lead by Dr. Jeff Krause and is investigating how small plankton (from 0.02 -0.2 mm in size) are affected by oiling and oiling response (e.g. the use of dispersants).